These nationally competitive scholarships have unique eligibility and application process requirements.
Benjamin A. Gilman International Scholarships provide awards of up to $5,000 for U.S. undergraduate students to study abroad for up to one academic year. The program aims to diversify the kinds of students who study abroad and the countries and regions of their host programs. The program serves students who have been under-represented in study abroad, which includes but is not limited to: students with high financial need, community college students, students in under-represented fields such as STEM, students from diverse ethnic backgrounds, students attending minority-serving institutions, and students with disabilities.
A limited number of $3000 Critical Need Language Supplements are available for students studying a critical need language for a total possible award of $8000. A list of eligible languages can be found on the Gilman website.
Review Eligibility Requirements prior to beginning the application. 
Please note: A student must be a Pell grant recipient to qualify for this scholarship, hold US citizenship and meet defined host program requirements.
Interested applicants must set up a meeting with one of UConn's Gilman Scholarship certifying advisors in advance of the deadline:
LuAnn Saunders-Kanabay, Office of National Scholarships & Fellowships
Valerie Jenkelunas,  Experiential Global Learning
Interested students should attend an information session, offered annually during the early part of the fall and spring semesters. Visit the Upcoming Events Calendar for schedule details.
Boren Scholarships For undergraduate study in areas critical to U.S. national security, including the Language Flagship Program for graduating seniors and the Critical Languages Program for undergraduates. Interested students must meet with the UConn campus representative for the Boren Scholarship Program, LuAnn Saunders-Kanabay.
Critical Language Intensive Summer Institutes (CLS) The United States Department of State and the Council of American Overseas Research Centers (CAORC) offers scholarships for intensive overseas study in critical need foreign languages. There is funding for U.S. citizen Undergraduate, Master's and Ph.D. students to participate in beginning, intermediate and/or advanced level summer language programs at American Overseas Research Centers and affiliated partners. For additional information, contact LuAnn Saunders-Kanabay.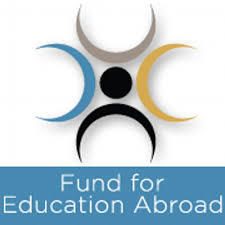 Fund For Education Abroad
FEA offers grants and scholarships to dedicated American students who want to participate in high-quality, rigorous education abroad programs. They target underrepresented groups, including first generation college students, those with limited experience travelling abroad, students who have attended community colleges, and those who represent racial and ethnic minority identities. There are also LGBTQ+ and regional awards (BASAA, New England). For additional information, contact Valerie Jenkelunas.
Phi Kappa Phi Undergraduate Study Abroad Grant
UConn has a Phi Kappa Phi chapter therefore competition is open to qualified member and non-members in all fields of study. A minimum GPA of 3.5 is required. Students may be nominated by the UConn Phi Kappa Phi chapter or may apply independently. Students must be accepted into an accredited study/internship abroad program at the time of the application. The grants are valued at $1000.
Rotary District 7890 Scholarship
UConn students are eligible to apply for two scholarships awarded at $5,000 each. Funds are payable directly to the University for tuition and books. Scholarships will be awarded to college juniors or seniors who demonstrate that their major focus is geared toward improving Global Education/Literacy or Global Waste/Sanitation.